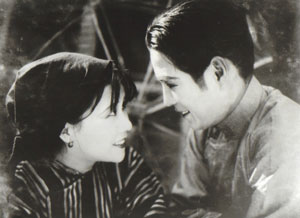 At the invitation of China Institute, Dr. Richard Meyer (馬浩然) will give a film-illustrated talk on Feudalism and Modernity in 1930s' Shanghai on Saturday, April 1, 2006, 2-4 pm. Dr. Meyer is President Emeritus of the San Francisco Silent Film Festival. He has had a distinguished career in public broadcasting and is now an author and scholar in the area of cinema. His book "Ruan Ling-yu: The Goddess of Shanghai" is published by Hong Kong University Press. He has produced DVDs and CDs of silent films. Dr. Meyer is visiting professor at the University of Hong Kong and former Fulbright Chair at L'Universita' del Piemonte Orientale in Italy as well as Edmund F. Ball and Virginia B. Ball Professor of Telecommunications Emeritus at Ball State University.
Following an introduction about Shanghai in the 1930s and its film industry, Meyer will screen his latest restored DVD "Peach Girl" starring Ruan Ling-yu, which has both Chinese and English inter-titles. This film is the third in a trilogy starring the popular screen duo of Ruan Ling-yu and Jin Yan. Production of "The Peach Girl" was completed the night before the Japanese army started its invasion of Manchuria.
As the most famous leading lady of the 1930s, Ruan Ling-Yu was the Greta Garbo of Shanghai. She tragically committed suicide in 1935 at the age of 24. Ruan's legacy was that she symbolized the suffering of China in most of her movies.

Dr. Meyer's book "Ruan Ling-yu: The Goddess of Shanghai," just published by Hong Kong University Press will be available for sale at the lecture and the author will sign copies for those who wish to purchase the text. Included with the book is the DVD of Ruan's film "The Goddess."
Saturday, April 1, 2006, 2-4 pm
Admissions: Free for members and $5 for non-members.
Location: China Institute, 125 East 65th Street, New York, NY 10021, between Lexington & Park Avenues)
Limited Seating
RSVP Required
To RSVP, please call 212-744-8181 ext. 142 or online by filling out the following form. Please direct inquiries to renwen@chinainstitute.org.