中國書院﹕完美道德的學習與追求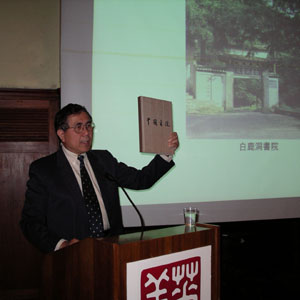 華美協進社 (China Institute) 人文學會舉辦的《中華文化系列講座》十一月二十日下午兩點至四點將由紐約市立大學李弘祺教授主講《中國書院﹕完美道德的學習與追求》。
中國書院從八世紀至二十世紀早期﹐一種是中國私塾教學的主流﹐其推廣的儒家思想教育一直為中國道教教育的藍本﹐直至宋朝末期﹐中國已有四百多家書院。許多學人都以書院作為宣揚自己思想的渠道﹐其後許多書院漸發展為由政府資助﹐為文人參加科舉考試而設立的傳統進身仕宦的途經。因此﹐書院制度一直為廣大民眾提供教育﹐但最主要的還是著力于個人道德休養進修的任務。
李弘祺教授是研究中國傳統教育的著名學者。
The Chinese Academy:
Center of Traditional Learning and Moral Cultivation
Thomas H. C. Lee
Professor of History and Director of Asian Studies Program, The City College of New York, and
Professor of Chinese History, The Graduate School, The City University of New York
The publication of Chinese Academies 中國書院 by Shanghai Educational Publishing House is an important monument not only in China's publication history, but also in the study of traditional Chinese academies. Richly illustrated with pictures of academies, this book provides a good introduction to this important educational institution in Chinese history. I wrote the English introduction to this book.
Chinese academies date back to the eighth century, but they took on the most important form in the twelfth century, influenced particularly by Zhu Xi, whose educational philosophy shaped the development of the academies for the next eight centuries.
The academies were founded primarily to provide Confucian education that was centered in the learning of Confucian classics. The ultimate purpose of Confucian or Neo-Confucian (as taught by Zhu Xi and his many other contemporaries and their followers) education was the cultivation of a moral personhood. Academies often took a critical attitude towards the more utilitarian approaches of the Chinese civil service examinations, even though eventually many academies were co-opted into government school system, and were founded primarily to prepare examination candidates. By 1905, when traditional Chinese academies were ordered to teach modern curriculum, more than 8,000 academies had been founded one time or the other.
In this lecture, I will discuss the history, educational ideals, and architectural characters of the academies, using pictures taken from Chinese Academies to illustrate my points.
Professor Thomas H. C. Lee is Professor of History and Director of Asian Studies Program of The City College of New York. He also is Professor Chinese History in the Graduate School of The City University. Professor Lee is from Taiwan and holds a Ph.D. from Yale University. He taught in The Chinese University of Hong Kong for many years before joining The City College. He specializes in Chinese educational and intellectual history, having published Government Education and Examinations in Sung China, and Education in Traditional China, a History. He has also published two other English books: China and Europe, Images and Influences in the Sixteenth to Eighteenth Centuries and The New and the Multiple, Sung Senses of the Past.