Safeguarding Dunhuang: An Evening with Fan Jinshi & Mimi Gates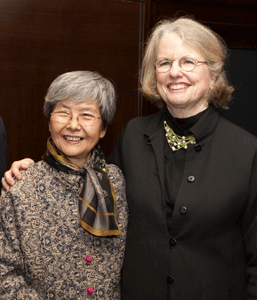 Ms. Fan Jinshi & Dr. Mimi Gates
(This lecture will be in English.)
Join us for an inspiring evening with Fan Jinshi and Mimi Gates, steward and protectors of the World Heritage Site at Dunhuang.
This remarkable Silk Road oasis, where hundreds of exquisitely decorated grottoes hold China's most important repository of Buddhist art, is a splendid legacy for China and the world. Ms. Fan, Director of the Dunhuang Academy, has worked at the site for 48 years. An indomitable woman with a powerful vision for its future, she remains Dunhuang's guiding force, conserving its ancient murals and sculptures for future generations at a time when surging tourism threatens to overwhelm the site. She will give an overview of Dunhuang with images, which will be followed by a conversation with the audience.
Joining in the conversation will be Mimi Gates, Director Emerita of the Seattle Museum who has formed the Dunhuang Foundation to preserve Dunhuang and raise awareness about its artistic treasures.

Admissions: free for Renwen members and $5 for non-members. Advance registration and payment are requested. To register online, please fill out the following form. To make payment online, please click the following button. by phone, please . For inquiries, please call (646) 912-8861 or email renwen@chinainstitute.org.
Location: China Institute, 125 East 65th Street, New York, NY 10065