Echoes of Chongqing: Women's Experience during China's War of Resistance against Japan and Beyond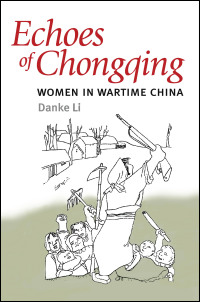 (This lecture will be in English.)
The Renwen Society at China Institute presents a lecture by Prof. Danke Li of Fairfield University in Fairfield, Connecticut on her newly published book Echoes of Chongqing: Women's Experience during China's War of Resistance against Japan and Beyond on Sunday, February 21, 2010, 2-4 pm.
Echoes of Chongqing is the first scholarly book on ordinary women's experiences during China's War of Resistance against Japan in the wartime capital of Chongqing ever to be published in the US and China. By presenting women's remembrances of the war, this study not only examines the interplay between oral history and traditional historical narrative, public discourse and private memory, but also stresses that although women and girls suffered disproportionately during the war, they were not passive victims solely part of "the problem": they were the solution. It was because of ordinary women's strong wills of refusing to die, their resourcefulness, and their incredible skills of in managing survival during the war that the nation was able to stay alive. Ordinary Chinese women's contributions to the nation's survival go beyond the wartime period. "Women are the solution" is still a key point in understanding the 20th and 21st centuries in modern Chinese history.
Christina Kelley Gilmartin, author of Engendering the Chinese Revolution: Radical Women, Communist Politics, and Mass Movements in the 1920s comments that "This insightful study reveals the complex nature of the changes brought by war not only on gender relations, but also on Chinese society, culture, politics, and economics. A major contribution to the study of Chinese history."
Professor Li received her B.A. Degree in Chinese History from Sichuan University, the People's Republic of China, her Master's Depgree in Ancient Greek and Roman History from Michigan State University, and her Ph.D. in Modern Chinese History from the University of Michigan. She joined the faculty at Fairfield University in 2000 as an Assistant Professor and was promoted to the rank of Associate Professor with tenure in 2005. She is the codirector of the women's studies program at Fairfield University in Fairfield, Connecticut.
Free admissions, but advance registration is requested. To register online, please fill out the following form. To register by phone, please call (646) 912-8861. For inquiries, please email renwen@chinainstitute.org.
Location: China Institute, 125 East 65th Street, New York, NY 10065