From home to a new homeland ——
A fabled family's faith, fortitude, foresight and philanthropy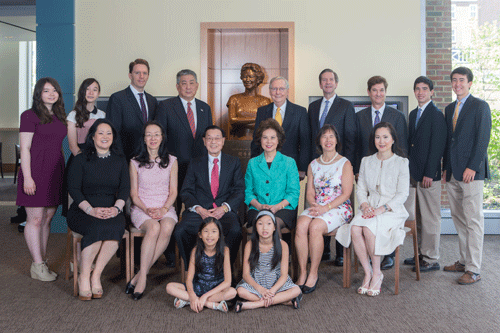 The Chao Family
In celebration of the 90th anniversary of the founding of China Institute, the Renwen Society of China Institute will present a special program on Saturday, September 17, honoring Dr. James Si-Cheng Chao with Renwen's first Lifetime Achievement Award for Philanthropy. Joining him at the event will be his daughters: The Honorable Elaine Chao, 24th U. S. Secretary of Labor (2001-2009) and May Chao. They will share with the audience their family's immigrant experiences in overcoming challenges to advance in this country through education, faith, diligence, optimism, and contribution to society.
Dr. James S. C. Chao is a recognized leader in international shipping, finance and philanthropy. Born in a small village outside of Shanghai, Dr. Chao advanced rapidly to become one of the youngest sea captains of his time at the age of 29. He subsequently achieved another milestone by scoring the highest grade on the National Master Mariner Examination, a record that stands to this day. His exceptional performance on this examination was a key factor in providing him the opportunity to study in the United States.
After earning a Masters in Business Administration degree from St. John's University in New York City, Dr. Chao established Foremost Maritime Corporation. The company later evolved into Foremost Group, where he still serves as Chairman. Under Dr. Chao's leadership and management, Foremost Group has become a global leader in promoting sustainability through the adoption of environmentally friendly ship designs and technology. For his contributions to the domestic and international maritime industry, Dr. Chao was inducted into the International Maritime Hall of Fame at the United Nations in May of 2004.
Dr. and Mrs. James S.C. Chao dedicated their lives to promoting the values of education, volunteerism and philanthropy. More than 5,000 American and Chinese students have been given the opportunity to widen their horizons through the generous scholarships provided by the Shanghai Mulan Education Foundation, and other Chao family philanthropies. Dr. Chao is also an active supporter of many other academic institutions with which he has been associated. Despite a busy career, Dr. Chao has always found time to serve on numerous boards, including as well as adjunct professor, advisor, and Trustee of the St. John's University Board of Governors. Throughout his career, Dr. Chao has received innumerable academic, professional and civic awards.
On June 6, 2016, Harvard University President Drew Faust presided over the dedication of the Ruth Mulan Chu Chao Center, the first building named after a woman and the first building named after an Asian American in Harvard's 380 year history. The Center was made possible through a generous gift announced during the 50th Anniversary of the admission of women in Harvard's full-time MBA Program by a Dr. James Si-Cheng Chao and family foundation. The Center is a tribute to the life and legacy of the beloved late matriarch of this extraordinary and exemplary family, the only one in the Harvard Business School's history to have had four daughters attend. The Center will anchor the Executive Education programs at the School. The gift also established the Ruth Mulan Chu and James Si-Cheng Chao Family Fellowship Fund, which has a particular emphasis on helping students of Chinese background or ancestry. Quoting the Dean of the School, Nitin Nohria, "The Chao Family is the embodiment of the American dream, and we are humbled by their generosity."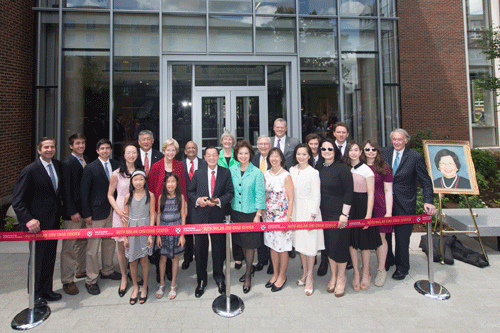 With dignitaries and university officials, the Chao family at the ribbon-cutting dedication of the Ruth Mulan Chu Chao Center, Harvard University were, L-R: May Chao; Sen. Elizabeth Warren; Harvard Business School Dean Nitin Nohria; Dr. James S. C. Chao; Harvard University President Drew Faust; Secretary Elaine L. Chao; U.S. Senate Majority Leader Mitch McConnell; Massachusetts Governor Charlie Baker; Christine Chao; Angela Chao; Grace Chao; Sen. Ed Markey.
The Honorable Elaine L. Chao, the 24th U. S. Secretary of Labor (2001-2009), is the first Asian American woman to serve in the President's Cabinet in American history. Under Secretary Chao's leadership, the Department of Labor made the advancement and inclusion of the Asian American community a top priority. In 2003, the Bureau of Labor Statistics, a part of the U. S. Department of Labor, began reporting employment data on Asians in America in its own separate category, a historic first.
Secretary Chao's distinguished career spanned the public, private and non-profit sectors. She was President and CEO of United Way of America, Director of the Peace Corps, Deputy Secretary of the U. S. Department of Transportation, Chair of the Federal Maritime Commission. She has also worked in the private sector as Vice President of Syndications at Bank of America and with Citicorp.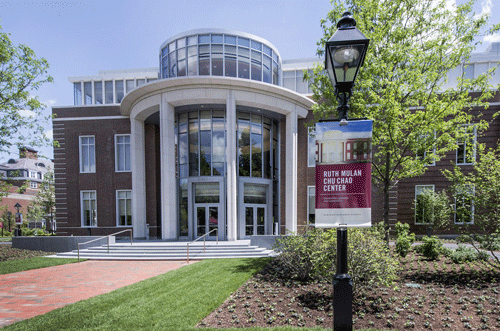 The Ruth Mulan Chu Chao Center, Harvard University
May Chao graduated with high honors as a Wellesley Scholar in three years with a degree in economics from Wellesley College and an MBA from Harvard Business School with a concentration in general management and finance. In 2002, she was appointed by New York Governor George Pataki to serve as Chair and Executive Director of the New York State Consumer Protection Board. She also serves on the Harvard Business School Alumni Board. Previously, she had worked as Vice President in corporate treasury, cash management, and investment functions at Foremost Group. Most recently, after the passing of her beloved mother, Ruth Mulan Chu Chao, she co-authored a book on recovering from grieving entitled: Good From Grief. An active volunteer and philanthropist, May Chao and her husband Jeffrey Hwang, are the proud parents of twin daughters, Miranda Mei Chao Hwang, and Jessica Ruth Chao Hwang.
The Confucius Institute at the State University of New York College of Optometry is the cosponsor of this event.
Date and time: Saturday, September 17, 2016, 3:30-5:30 pm
Location: Schwartz Theatre of the State University of New York College of Optometry, 33 West 42nd Street (between 5th Avenue and 6th Avenue, across from Bryan Park), State University of New York, College of Optometry
Free for members of the Renwen Society, China Institute, affiliates of SUNY, full-time university students and $5 for non-members.
Contact: (646) 912-8861 or LearnedSociety@gmail.com